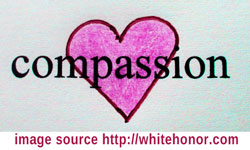 This is a guest post written by our family friend, Nathan. You can learn about him and view the videos that he made by visiting his blog, Nilla Vizion, or his YouTube Channel.
Have you noticed that there are more homeless people begging at dollar stores in the "low class" parts of town than at stores in the "upper class" parts of town? Why is that?
I can't say all wealthy people are greedy since there are plenty of wealthy people that are doing their parts in helping the world, but there is a reason homeless people go to places where low/middle class people shop, to ask for help. I think, those who are less fortunate are more generous (for the most part), because they have learned compassion, and are not busy stepping on people to make their own lives better. They would rather take the hard road and make an honest living than take the easy road with no compassion, and be well-off.
If you think about it, there is at least one person you know or have met in your life that is greedy. Whether it be you, your boss at work who does things for their benefit and ignoring whether it's right or wrong, your child's mother/father looking for child support money for greed or revenge (instead of genuinely needing help), or businesses/random people you meet trying to make a quick buck, there will always be these people in your life.
Can you change these people? No, they have to do it themselves. But you have a choice, you can change the world by starting with yourself; – and it begins with this question, "am I going to be greedy or compassionate?"
Compassion is not only about money or spare change. Kind words, appreciation, time or some kind of support are some of the ways to show compassion and make someone else's day better!
If you think about it, compassion is a win-win thing! Just think of the last time you helped someone. Do you remember how it felt when they thanked you? Seeing their whole attitude towards that day or just life in general change for the positive made you feel better too because someone was able to depend on you for compassion.
Greed, on the other hand, will give you a great feeling of power and accomplishment at the time. As time goes on, however, you begin to feel this lonely feeling because you have burned all bridges with family and potential friends and created more enemies along the way. In actuality, what did you gain? More stress and that hollow feeling as you deal with your lonely life.
When you get into a situation where you have to make a choice, Would you rather have the great feeling of compassion or the lonely feeling of greed?
Compassion or greed? Your choice.