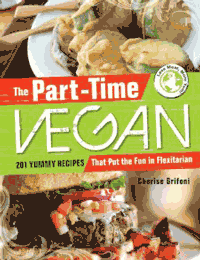 I'm not a vegetarian but when the book The Part-time Vegan was made available by Booksneeze, I immediately requested a copy in exchange for an honest review here at Georyl.com.
It was unlike other recipe books that I'd encountered. It gives me the impression that Cherise Grifoni probably loves talking as much as she is as passionate about being a vegetarian. Reading the book makes me feel like I'm watching a cooking show because of the conversational way that she writes.
I haven't tried any of the recipes yet because some of the ingredients are not really that popular and we don't have them at home. Notwithstanding that, I think that the procedures in the recipes are easy to follow.
Recipes include dips and appetizers, breakfast meals, salad dressings, salads, soups, vegetables dishes, rice, pasta, grains, tofu and desserts.
Vegans, would-be vegetarians or those plain curious about going vegetarians will probably find this book helpful.
Disclosure of Material Connection: I received this book free from the publisher through the BookSneeze®.com book review bloggers program. I was not required to write a positive review. The opinions I have expressed are my own. I am disclosing this in accordance with the Federal Trade Commission's 16 CFR, Part 255 : "Guides Concerning the Use of Endorsements and Testimonials in Advertising."