Happy Chinese New Year!
It's Chinese New Year today, February 3, 2011. Unlike in most places where new year's celebration falls always on January 1, the date of the Chinese New Year is dependent on the Chinese calendar and some astronomical calculations and is not fixed on a certain date.
I'd like to share with you some of the chinese new year exhibits/decorations at the Bellagio Hotel on the Las Vegas strip. For a larger version, just click on the images.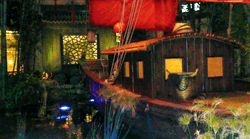 Again, happy Chinese New Year to all. Welcome to the year of the rabbit.