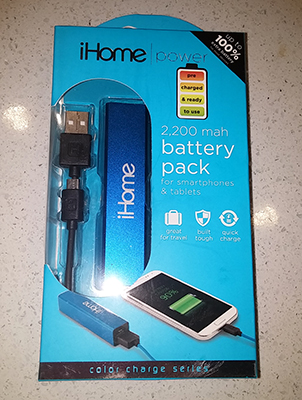 Does your phone or gadget usually run out of battery while you're on the go? It's a good thing that power banks are created – they're cellphone life savers! Please do read my product review below of this particular power bank: the iHome Pocket Power.
Product Description
comes with its micro USB to USB charging cable. This can be used to charge certain devices but is used mainly to charge the power bank
compact and portable design
provides a USB port to charge your iPad, iPhone, android phones and other gadgets
2,200 mAh
available in blue, black, pink and green
Buying Options
You can buy this product, listed as "iHome | Pocket Power – Universal External Battery 2,200 mAh – Blue" at Amazon by clicking through this link:
iHome Pocket Power
.
In My Honest Opinion
I hope there's a battery indicator so that one will know whether it is time to charge it and that the cable that came with it can also be used to charge other devices instead of just this power bank. On the positive side, I like its cool blue color and convenient size.
Disclosure
I received products above free in exchange for an honest review here at GEORYL. Regardless, I only recommend products or services I use personally and believe will be good for my readers.