When your AC goes out during the summer, you need it fixed or everyone is going to suffer. However, if you are new to the area, or have not needed servicing on your HVAC since you moved in, you do not have a working relationship with an HVAC repair business. The question then becomes who to hire to do the work. You need someone who is trustworthy, responds to calls in a timely manner, and gets the work done without rebuilding the entire AC unit. The following tips will help you pick a great AC repair contractor.
Ask for Licensing and Accreditation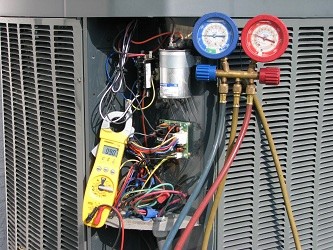 Image via Flickr by Daniel Kinnectz
HVAC repair technicians have to go through school and licensing in order to service HVAC units. They also have to spend time as an apprentice before they are set loose to work on their own. If you are not comfortable asking them about their licensing, you can always look them up on the state's licensing website for more information. If they are not licensed, move onto the next company as having an unlicensed technician do work on your HVAC equipment may void the warranty on your units.
Do not hesitate to ask them how long they have been doing their job or have owned their business. The longer they have been in operation, the more knowledge they have and the more likely they are to have happy customers. Moreover, when it comes to happy customers, check the BBB's website or ask if the business is BBB accredited. For example, a business like Air Specialty is BBB accredited and has user ratings to back them up.
Ask About Experience
Older structures sometimes have their original heating systems in place, such as steam heat for the winter, but modern AC units like Space Pak creates two systems in the home. Yours may not be a common style or is old enough that there are fewer technicians out there with experience repairing them. Asking the HVAC technician if they have experience with your system is not insulting them. Rather, it is determining if they should come out to do the work or if you need to call someone else who does understand the quirks of your units.
Alternatively, ask if they have done work on the brand of the unit that is attached to your home. Some brands tend to be more complicated than others, and require specialized education for their repair. It is not common, but it does happen. You do not want the technician to get to your home and find out that they are unable to do the work because they are not equipped to deal with that brand.
Ask Around for Referrals
Ask neighbors and coworkers for referrals to HVAC businesses they have dealt with. A good working relationship with a technician is invaluable, and oftentimes people are happy to share the name of their favorite repair company. It gives you an idea of who is good, who is going to be the alternative, and who to avoid.
Do not wait for a unit to break down before calling for HVAC repair. You want to know who is going to be working on your units, and you want them performing the best work possible. Doing the research beforehand gives you the confidence you need to pick up the phone and call.