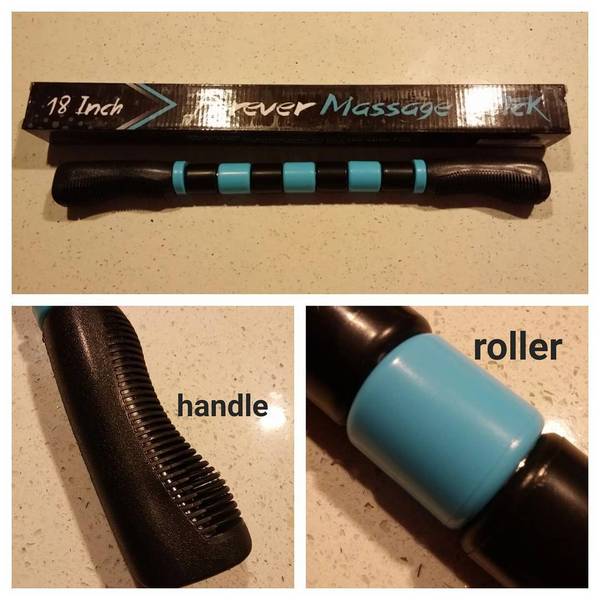 Are you in the market for a muscle roller massage stick? Well, you are in luck because I am currently reviewing the Live Infinitely Muscle Roller Stick. Please do read on to see if this product is for you.
Product Description
18″ muscle roller stick
with seven ABS plastic rollers that are hard enough to handle pressure
comes with rubber handgrips
plastic rollers are about 1 1/8″ wide and 3 5/8 inches in diameter
stainless steel core
flat rollers, not domed
free downloadable eBook outlining preventative massages and everyday uses of your muscle roller
Possible Uses
According to the manufacturers, this massage stick can be used to
stretch muscles
increase flexibility
promote blood circulation
reduce post workout soreness
reduce shin splints
stretch IT bands
reduce likeliness of a pulled muscle
The 20 page eBook on how to use this product showed the instructions on how to use this on the upper body (neck, upper back, shoulders, mid/lower back, biceps, triceps, forearm, abdominal, and obliques & lats) and lower body (IT bands, hamstrings, quads, adductors, calves, shins and feet).
Buying Options
You may buy this Forever Massage Stick at Amazon by clicking this link: Muscle Roller Stick 18″ By Live Infinitely – Myofascial Therapy Deep Tissue Rolling Muscle Massager for Pre or Post Workout – Relieve Knots, Soreness, Decrease Tension and Increase Blood Circulation
(affiliate link) or you may visit Georyl's Amazon Store to see this product as well as the other products I've previously reviewed on this site.
In My Honest Opinion
The rollers are very hard. While this might be a good thing for those who want a deep tissue massage, this can hurt when used in some sensitive areas. It is, therefore, important that you download the eBook instruction because it warns you of the areas where you can't use this product. However, for safety reasons, I believe that warnings/instructions should come along with the product instead of being used as a bait for users to leave their email addresses when in fact, the download page can just be found in one of the publicly accessible pages of the website.
Disclosure
I received products above for free in exchange for an honest review here at GEORYL. Regardless, I only recommend products or services I use personally and believe will be good for my readers.