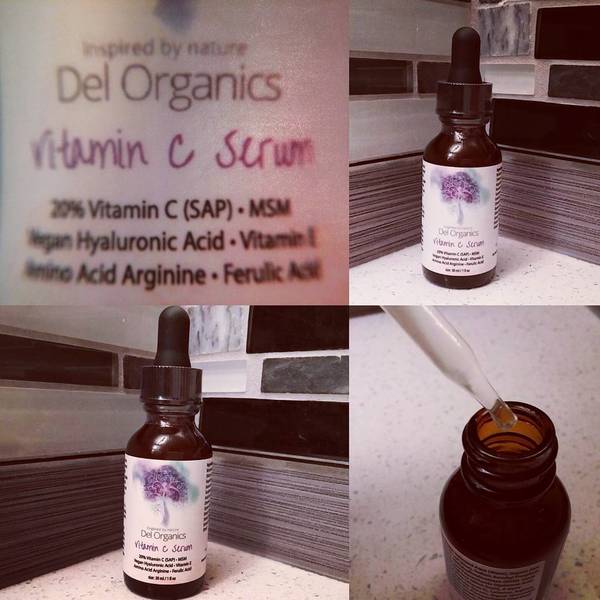 Are you always on the lookout for that one special beauty potion? I recently got a chance to try the Del Organics Vitamin C Serum and here's my review of this product.
Product Description from Manufacturer
contains 20% vitamin C (SAP)
other ingredients include vitamin E, ferulic acid, MSM, hyaluronic acid, amino acid, water, aloe, witch hazel, carbomer, arginine, vegetable glycerin, jojoba oil, phenoxyethanol, ethyl hexyl glycerin, gotu kola extract, horsetail plant extract, geranium extract, and dandelion extract
purposes: serves as antioxidant to skin; hydrates and brightens skin
free of sulphates, parabens, propylene glycol, butylene glycol, mineral oil, petroleum, colorant, fragrances and any other toxic and harmful chemicals
Buying Options
You may buy this vitamin C serum at Amazon by clicking this link: 20% Vitamin C Serum: Vegan Hyaluronic Acid+ Vit E +Ferulic Acid+Amino Acid Arginine+MSM; 72% Organic; Boosts Collagen Production, Antioxidant, Repairs Sun Damages; Lightens Scars; Brightens Complexion
(affiliate link) or you may visit Georyl's Amazon Store to see this product as well as the other products I've previously reviewed on this site.
In My Honest Opinion
This product is so thin (almost just like water). I believe that it's impossible to follow the directions printed on the bottle label to use just 1 to 3 drops over the entire face and neck. I tried doing it a lot of times but because it is absorbed easily by the skin, it's like it disappears even before you get a chance to spread it on your face. Nevertheless, if you don't want greasy stuff, you are in luck because this vitamin C serum doesn't have a greasy feeling to it. It is also scent-free, which is also a nice feature if you are particular about scents.
Disclosure
I received products above for free in exchange for an honest review here at GEORYL. Regardless, I only recommend products or services I use personally and believe will be good for my readers.