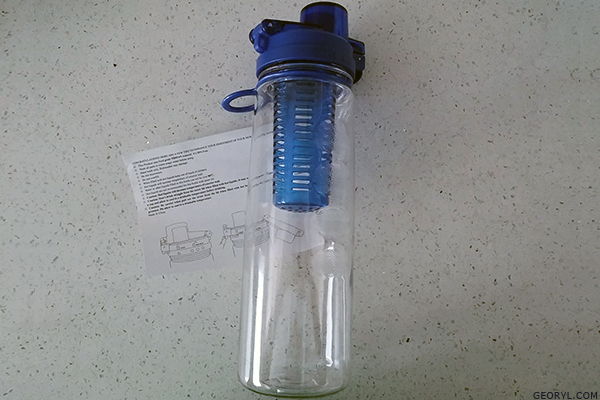 Since we were young, we've been told to drink at least eight glasses of water every day. The benefits of staying hydrated has been stressed enough that I don't need to elaborate about them here. If you want an enjoyable way of drinking water, you should try infused water – water steeped with fruits, vegetables and/or herbs.
I got a chance to receive a free FlavFusion infuser water bottle free in exchange for an honest review here at GEORYL. I was excited to have this product because it is an easy way to make infused water – and bring it anywhere.
FlavFusion Infuser Water Bottle – Product Description
According to the manufacturer, the following are the features of this product:
Uses food grade Tritan material
BPA and lead free
clear bottle
top and infuser are available in three colors: red, blue, and orange
lightweight
locking flip top sipper lid for easy drinking on the go
large opening for easy filling and cleaning
25 oz capacity
Made in China
Where to Buy
Big Easy Brands currently offers the FlavFusion 25 oz Infuser Water Bottle with Locking Flip Top Lid at Amazon on sale for $9.81 (original list price $27.97). It comes in red, blue or orange colors.
My Verdict
I was surprised to see at how thin the bottle was but since the manufacturers claim that it is made of Tritan (a durable, clear, and safe material), I'll accept their claim that it's durable for now and just update this review when proven otherwise. This product is lightweight and the 25oz capacity is just right for drinking on the go. It is also easy to clean and BPA free. The locking flip top ensures that the lid will not accidentally open while it's inside your purse or bag.
My only concern is that the infuser is a bit small and short. I tried this today and I can only put half a lemon in there. In addition, you can fill the bottle up to 8 inches but the infuser only reaches the top 3 inches, thus, once you drank about 1/3 of the contents (1 cup), the fruits can't reach the water anymore. The workaround will probably be lay the bottle or invert it so that it will continue steeping. I am giving this product 4/5 because of this design flaw but I want to add that, overall, I like it.
Disclosure
The product mentioned above was sent to me by the advertiser for free. While I received this product free, my recommendations and opinions are based on my own fair and unbiased review of the product and my primary concern will always be my readers.