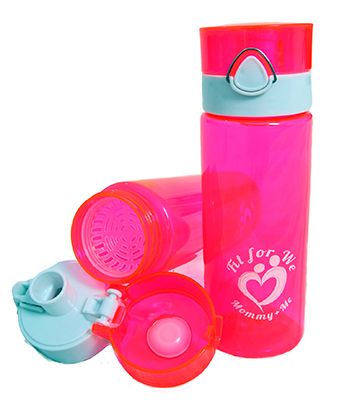 I am not a fan of bottled water – those that are packaged in plastic or glass – because they usually end up in the waste stream in landfills, cause more energy to recycle, and negatively impact the environment. At home, I use refillable water bottles and glasses, after making sure they are BPA free.
I had the chance to receive and use a complimentary Fit for We Mommy & Me Refillable Tritan Water Bottles for Mommy and Kids for evaluation purposes and here is my review.
Features of the "Fit for We Mommy & Me" Refillable Tritan Water Bottles
Matching bottles in 25oz. and 18 oz.
Non-toxic
Made with durable Eastman Tritan
BPA free co-polyster
Tested to be FDA safe for use with beverages
Shatterproof
Top rack dishwasher safe
Flip open cap with push button lid
Snap top lid
My Verdict
"Cool!" is what my daughter uttered when she first saw these water bottles. My daughter and I both love the color and I especially like that these bottles look so compact and that they are BPA free. The size is just right for her (18oz) and me (25oz), too! My 5 year old daughter can open and snap it close easily.

Aside from how it looked, I love that these water bottles are shatterproof! My water bottle jumped ahead of me (wink!) while I was going down a cement staircase and it just shrugged off that experience like nothing happened. As for the 18 oz. water bottle that my kindergarten daughter brings to school, I can't recall how many falls that one has been through already but it is so sturdy that it didn't shatter after all those falls.
I definitely recommend this product to anyone looking for water bottle. At its current price of $29.95 for the pair of 25oz and 18oz bottle, it's definitely worth it. I already bought almost a dozen water bottles (different brands) for my daughter since she started school – and some of them didn't last a week (shattered when it fell). Based on my experience so far, I can sense that this "Fit for We Mommy & Me" refillable tritan water bottles will last for a long time.
Disclosure
The product mentioned above was sent to me by the advertiser for free. While I received this product free, my recommendations and opinions are based on my own fair and unbiased review of the product and my primary concern will always be my readers.