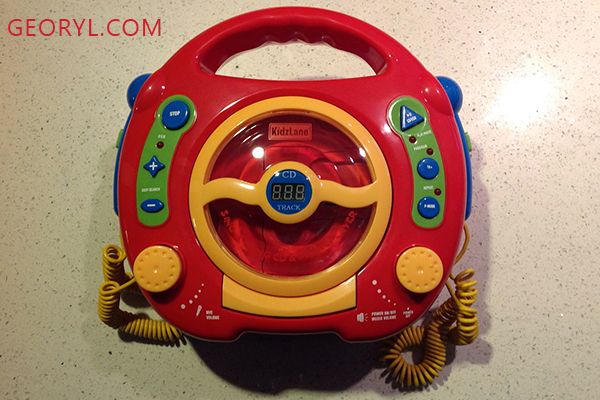 Do your kids love singing? Well, my two daughters do! As much as we would want to share our stuffs with our kids, there are times that we cannot allow them to use some gadgets and equipment for fear that they will break it. For one, they already broke our Magic Sing Karaoke System (sad face). I am glad when I learned about a toy called Sing-A-Long CD and MP3 Player from Kidzlane – it a promising toy for my music lover children.
Product Features
Here are the features of this product:
Music player with CD and mp3/wma audio format
Colors: red (body), yellow (microphone cord, on/off dials, and CD cover), blue (microphones, buttons for controls), and green ("open" button and background for controls)
Can be used as a CD player or you may connect your mp3 player or smartphone via a line-in jack
Two microphones with on/off switch
Plastic construction
Fully programmable with different play modes: single/multiple repeat, random play, and intro play
Anti-skip protection for the CD
USB port
Uses 6 "C" batteries (not included with purchase)
A 9V DC adapter (not included with purchase) may be used to power the product
Separate control knobs for microphone and music volumes
3 digit LED display
Recommended for children 5 years old and older
Made in Shenzhen, China; manufactured and imported by Kidzlane
My Review
The sound quality may not be the best but considering that this product is created for kids, it is loud and good enough for kids play. The dual microphone is very convenient if you have two kids because they can both enjoy singing without quarreling over the microphone.
The use of batteries makes this toy very portable (you can hook the microphones at the sides) but you may also use a 9V DC adapter with this product if you are not into batteries.
If you intend to give this toy as a Christmas gift, be sure to have these things handy to avoid upsetting and frustrating your kids while you go on an unplanned trip to the store: a screw driver (for battery installation), 6 size "C" batteries, and a CD of your kids favorite music (or mp3/wma songs saved in an mp3 player or your smartphone).
You can buy the portable Sing-a-long CD & MP3 from Kidzlane at Amazon. It was originally listed at $69.99 but you can currently buy it for only $59.99 with FREE shipping.

My verdict
The Sing-a-long CD & MP3 can be a good gift for kids who love music. The sound may not be of the best quality (considering the price, it's fair enough) but it is good and loud enough for kids play.
Click here to check it out at Amazon ===> Kids Portable Sing Along CD, MP3, USB & AUX Player, with 2 Microphones, Anti-skip Protection
Disclosure
I received the Sing-a-long CD & MP3 toy shown above for free using Tomoson.com. Regardless, I only recommend products or services that I use personally and believe will be good for my readers.