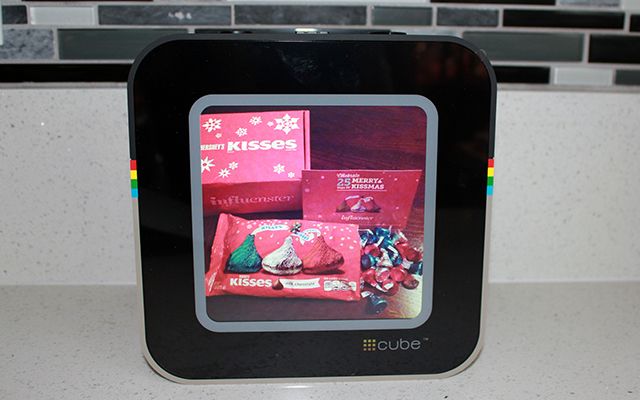 Instagram lovers will be thrilled with a new product called #Cube. It is a device that displays Instagram feeds in real time.
Features
The #Cube has the following features:
8" square LCD touch screen display
real-time and instant continuous delivery of a stream of photos and video clips from Instagram
rechargeable
built-in Wi-Fi
free wireless software updates
three buttons on top provides easy access to the power button, source feeds options, and like button
display feeds from various sources: single user, hashtag, liked library, Instagram feeds, or popular pictures or videos from Instagram
allows the logged-in user to follow accounts, like
double-tap screen to view buttons for the feed type selector, dashboard, pause button, like button, Wi-Fi status and battery level
more… please see updates from advertiser below
Dashboard Options
The dashboard shows options/information for the following:
slideshow – enable/disable, slideshow speed, screen brightness
video settings – automatic play, volume level
user guide – instacube website
user – shows logged in user and presents an option to log in as a different user
general settings – restore default settings, delete all downloaded media, update Cube version
My Verdict
This is a cool gadget for Instagram lovers. It is like a digital album that showcases the pictures and videos from one's Instagram account. It is easy to set-up and intuitive to use – and there's a Help feature just in case you still need further instructions. This works like charm if you are very much into Instagram and have Wi-fi connection. Having said that, I just wished that this product would allow one to access other social media accounts like Facebook, Twitter or other feeds. While Instagram is becoming a popular network, I feel like this product has a very limited niche market considering that it can only cater to one's Instagram feeds.
Update from the Advertiser
On December 29, 2014, I received an update from the advertiser. "In regards to streaming other social media feeds, we actually have been working on updates to stream from Facebook and then Twitter, etc. This is in the works for the next few months, so that the #Cube was not just limited to Instagram, which you had noted in your review. When these become available through software updates, current users will be able to update and then stream the additional social media channels. It was never the intent to just stream Instagram only and be a "limited" niche product. "
Disclosure
The product mentioned above was sent to me by the advertiser for free. While I received this product free, my recommendations and opinions are based on my own fair and unbiased review of the product and my primary concern will always be my readers.