I love books! How about you? When I was growing up, the internet was just in the early stages of development so I was exposed to reading books and doing my research in the library of physical books. I remember rewarding myself after every major exams in college by buying a pocketbook from authors such as Judith McNaught. If there are two things that would make me drool, it won't be shoes, bags nor clothes; those two things will be books and techie gadgets.
Although my hubby's niece told me about the public library since I first arrived here in Las Vegas in 2011, I only got the chance to visit the public and create my account last month. Lately, I've been hooked to e-books and digital magazines (and the internet, of course) that I almost forgot how it felt to be with real (physical) books!
I never knew how eager I was to read physical books again until I got home and arranged all the books that I checked from the library during my visit there. Can you imagine how I managed to bring this books home right after the library visit?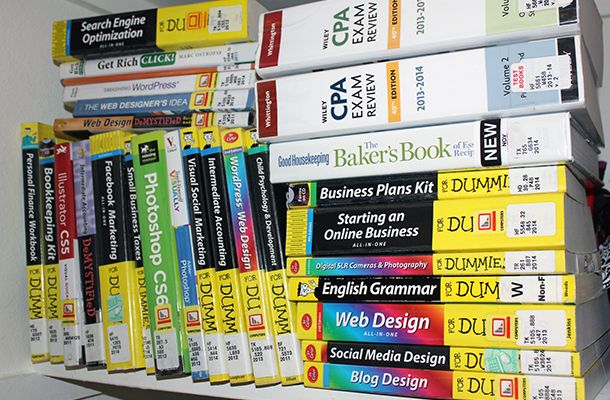 These are all the books that I borrowed during a visit to the library!
The books are mostly about blogging, web design, accounting, photography, photoshop, and social media. Next time, I would like to borrow a book about Keyboards and Pianos for Beginners. For now, I have to finish reading all these books first because I only have 21 days to read them all. Don't worry, if I need more time, I can request extension online or through phone.
How to Borrow from the Las Vegas-Clark County Library District
If you are from Las Vegas, Nevada, you can create an account online by visiting this link: LVCCLD Library. After creating an account, you can already view the library catalog. Be sure to visit a branch near you to verify your information and get your actual, physical library card. You may also change your settings to change the default library location where you want to pick-up the books that you reserved.
Library Locations
The library district headquarters is located at Las Vegas-Clark County Library District, 7060 W. Windmill Lane, Las Vegas, NV 89113 and can be contacted through phone at 702-734-READ or (7323). You can see the complete list of locations and library hours here: Library hours and locations.
Do you love reading books as well? What was the last (physical) book that you read?