Have you heard of Exfolimate face and body exfoliation? I received this product last month free in exchange for an honest review here at GEORYL.
Product Description
The Exfolimate face and body exfoliation product that I received is a 2-piece exfoliator tool set. The smaller one is for the face and the other is for the body. It is Australian designed and can be used by those with normal skin types.
As you can see from the picture, the exfoliator tool is a flat plastic that is shaped like a triangle (with smooth corners). On one side, there is a blunt stainless steel that you will use as an exfoliator. There is a hole where you can insert the red plastic strap, making the tool handy when you are in the shower or bath.
How to Use
According to the manufacturer, when your skin is wet and supple while showering or bathing, gently glide Exfolimate with slight pressure at a 90-degree angle along the contours of the skin. To clean Exfolimate, run the stainless steel edge under warm running water to remove any remaining debris from under the skin, smoothing edge and hang to dry.
My Verdict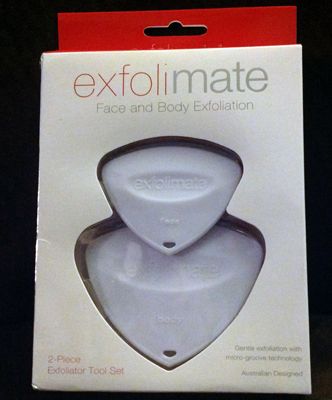 I found this tool handy in removing blackheads from my face, especially at the side of my nose – actually, I prefer it now than a blackhead remover. As an exfoliator tool, however, I am afraid that I have to stick to my body scrubber and loofah. Maybe it's just my skin type, or my way of using this, or the product itself – I didn't fall in love with this product. But this is from my personal experience, the results might be different for you.
Disclosure
I received the product mentioned above for free using Tomoson.com. Regardless, I only recommend products or services I use personally and believe will be good for my readers.