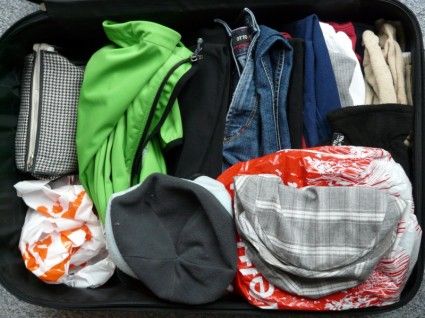 Traveler versus suitcase is a familiar scene. When the only thing in between you and your flight to the next adventure is packing, it's easy to let stress get the better of you. Worries of bringing enough clothing and the right kind for your destination are enough to make anyone over pack. Resist the urge to overthink it. There are lots of clever packing aids at www.magellans.com to do the pre-flight thinking for you. Keep these handy organizers around to remind you exactly what you need to bring on your trip and keep the clutter to a minimum.
Compression Bags
If you know you have the tendency to over pack, or you simply need to bring a wide variety of clothes for your trip, a compression bag may become your best friend. Available in different sizes, store your clothes into these bags and then vacuum out the air out for a significantly smaller load. This maximizes the space in your suitcase and makes room for more belongings. They also double as a great place to store dirty clothes at the end of your trip.
Storage Cubes
Packing cubes like the Eagle Creek Pack-It Specter Half Cube are perfect for staying organized. Choose from a wide selection of sizes depending on what you intend to pack. Keep smaller ones for socks, undergarments, and other little items than can add up to a lot of clutter. Try larger ones and use different colors to organize shirts, pants, and outerwear. Not only do they keep your suitcase organized, having one cube for each different category of clothing will help you remember what to pack without having to think too hard about it.
Toiletry Kits
Your toothbrush, deodorant, makeup, and hair products are little things that can make a big mess in your suitcase. Contain them for stress-free traveling with a simple toiletry kit. Choose from a mini size for small trips or choose the Total Toiletry Kit to hold all you might need while traveling. It features a multi-compartment case with a hanger for easy storage at your destination. You can remove mini-cases as needed to organize cosmetics and other toiletries.
Jewelry Storage
Ladies, make the most of your space and clothes by pairing the same outfit with different jewelry while traveling to easily turn one look into two or three. Forget zip lock bags that lead to tangled necklaces and go with the Jewelry Roll instead. There are several compartments to fit each category of jewelry, from a larger one for necklaces to smaller ones for earrings and watches. Once you're packed, just roll it up and secure the elastic straps for mess-free packing and travel.
Medicine cases
Staying healthy is extremely important while traveling, so don't forget to pack your medicine and daily vitamins. Try the Day/Night Pill Organizer to carry your medication and help you remember to pack the exact amount you need for your trip. This lightweight and compact organizer is color-coded for daytime and nighttime medications. It has 16 individually labeled and removable pouches to easily store your vitamins and prescriptions as needed.
Don't let packing stress you out, let these handy organizers do all the pre-departure thinking for you.