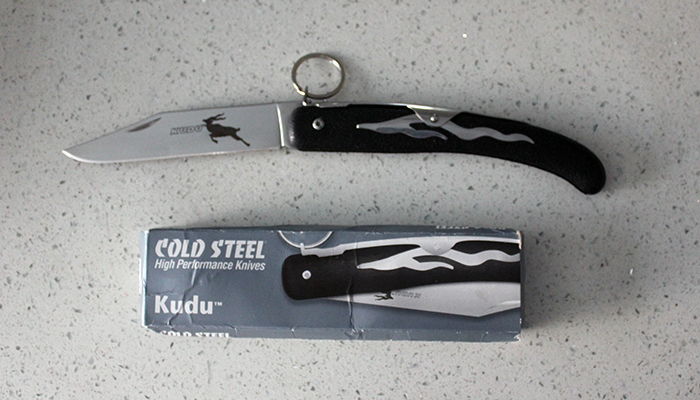 Disclosure: I got this product as part of an advertorial.
Most of the products that I get to review are for women. A few weeks ago, I was glad to receive a product that I can pass on to hubby, a kudu knife from Swords of the East.
The Cold Steel Kudu is an adaption of South Africa's ring-lock folder knife. It is about 5 3/4″ long when closed, weighs 2.4 ounces, is 2mm thick, and with an overall length of 10 inches. It has a 4 1/4″ Krupp 4116 stainless steel flat ground blade and a 43% glass reinforced Zytel handle with an inlay design that looks like kudu horn and wood-grain texture.
Unlike other folders that you can flip open easily, the kudu comes with a locking mechanism. It is imperative that one reads the accompanying instruction on how to close the knife first because it can be a little bit tricky. Honestly, I had the scare of my life when I pushed too far while closing the knife with my fingers still grasping the handle. I do not intend to post a review with a grim picture of my fingers alongside the knife (LOL).

Do you see the picture on the right? The circle thing looks like a keychain but it's actually what you pull when you need to close the knife. Petite persons or someone with short fingers like me will probably need modify the procedure on closing the kudu knife because my short index finger doesn't provide enough leverage to open the lock when pulling that circle thing. I also wish that circle metal's sides are a bit rounded because there are times when the flat side could hurt a bit when you pull it.
This kudu knife can be used as a work knife or utility knife. If hubby will not accept it (although I doubt it), I might use this knife in the kitchen.
I received the product mentioned above for free using Tomoson.com. Regardless, I only recommend products or services I use personally and believe will be good for my readers.