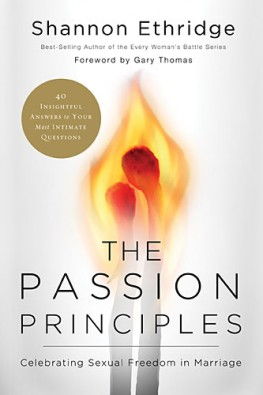 Many conservative Christians think that sex is not a topic that should be openly discussed with others so I was surprised to see this Christian book about sex. It is entitled The Passion Principles: Celebrating Sexual Freedom in Marriage, a book written by Shannon Ethridge who gave insightful answers to some of the most intimate questions. She is an international speaker and certified life coach.
It's my first time to read a book by Ms. Ethridge and I am already drawn to her straightforward, witty, honest and compelling style of writing. An author who could write an interesting book discussing a sensitive topic and can still incorporate Christian beliefs in it earns my respect. It helps that the book was well-formatted – used bullets and various font-styles and heading levels, book was broken down into 40 questions, and used capsulized "ponder the principle" portions – making it easier to read.
If you grew up in a family where sex is a taboo topic, this book will be an informative way for you to learn on how to celebrate the spiritual, mental, emotional and physical sides of sex. There are lots of principles here that will definitely improve one's marriage. Needless to say, you will have a greater appreciation for this book only if you are married.
Disclosure: I received a free copy of this book in exchange for an honest review. I was not required to post a favorable review; all opinions are 100% mine.