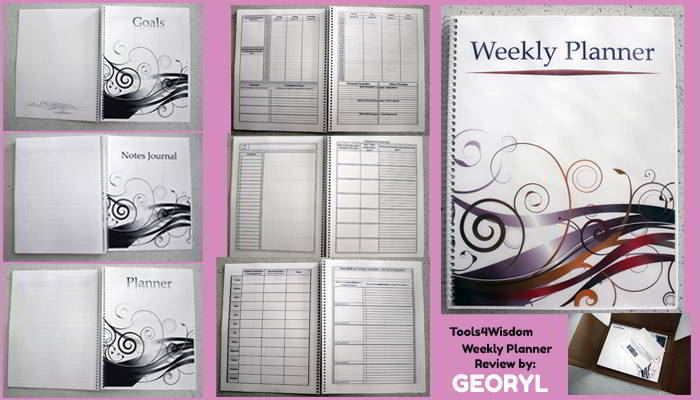 Disclosure: I got this product as part of an advertorial.
I used to keep planners to organize my schedule and keep track of my goals. When I left the corporate world, I just resorted to using my cellphone and printing my own "to do" list to remind me of what I needed to do.
Recently, I received a weekly planner from Tools4Wisdom for free in exchange for an honest review on my blog. This spiral bound planner has a semi opaque plastic cover and smooth glossy pages. It is comprised of more or less 100 leaves and is about a half an inch thick, 8.5 inches wide and 11 inches tall. The planner is divided into three sections: Goals, Planner and Notes Journal.
The Goals section will be great for those who are trying to accomplish a goal (or brainstorming one) as it provides areas for personal goals, professional goals, and steps in achieving those goals. A few pages are also devoted to help you brainstorm on your overall goals, as well as for various areas-of-focus like innovation, health – body, health – mind and soul, family and loved ones, growth, career/business and finance.
The Planner section comprises about 85% of this product (naturally!). Each month has areas for the lists of priorities and goals and the month at a glance. This planner starts the week on Mondays and each day of the week (including weekends) has its own daily schedule with time slots in increments of 30 minutes from 5:00 AM to 11:00 PM. It is also nice to see that there is a space where you can write the major outcomes for each week and the required steps to complete those outcomes.
The Notes Journal section is consists of 16 pages of spaces for Notes & Reflections, as well as Actions.
I work from home so the size and weight (1.2 lbs) of this planner is not really an issue for me. For those who travel a lot, it can be a bulky thing to carry around and will not fit the usual shoulder bags.
I just wished it had page numbers and holidays, although it is just my personal preference and does not really affect the usability of this product. Incorporating pages for professional goals, personal goals and areas-of-focus reflection planner in both the Goals and Planner sections seems a bit redundant as well. It would have been better if they just stay in the Goals section.
I received the product mentioned above for free using Tomoson.com. Regardless, I only recommend products or services I use personally and believe will be good for my readers.