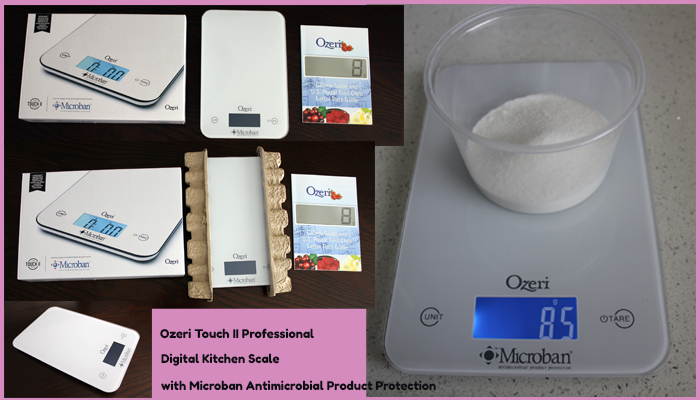 I've always wanted to have a kitchen scale. When Ozeri offered me a free touch sensitive kitchen scale with microban in exchange for a review here on my blog, I immediately grabbed the opportunity. Although I got this product for free, I was not required to post positive review and I will only recommend products that will benefit my readers.
The top of this kitchen scale is made of glass so I felt like you really need to be careful when using this. Its dimension is 9 1/8" x 6" x ½" with a very modern and sleek look. Its digital LCD is about 2 1/8" x 7/8" with blue backlight display and white digits. You can also easily convert to four different units (fl. oz, lb. oz, ml and g). If you hate doing mathematical calculations (deducting weight of container from the measurements), there's a TARE feature that you can use as well.
According to the manufacturer, this kitchen scale has a capacity range of 0.1 oz. to 11.2 lbs. or 1 g to 5100 g. It is also infused with Microban antimicrobial technology to provide an added level of protection that won't wear away.
Overall, I love the look and features of this scale. I also use this as a postal scale for my online business and the measurements had been accurate so far. Again, the top is made of glass (and I won't try dropping it to test how durable it can be, LOL) so just be careful not to drop or break it.
You can also view this product on Amazon via this link: Ozeri ZK13-5PW Touch II Professional Digital Kitchen Scale with Microban Antimicrobial Product Protection
.