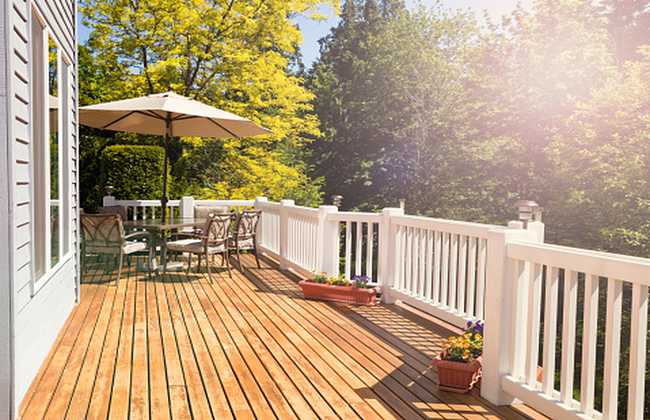 When you build a custom deck, you add livable space to your home without the hassle of a major construction project. Custom decks fit both small and large yards, and they help homeowners maximize space for leisure, parties and special events.
A custom deck is a valuable home addition that you and your family can enjoy for many years to come. When you choose a custom design, you have a lot of different styles and options to choose from. The following are the most popular among homeowners:
Screen Porch
A screened porch allows you to enjoy your deck without having to worry about the weather. When you put a screen on your porch, it allows you to enjoy the outdoors without having to worry about bugs, rain or the sun. Screens give you ample protection from the elements; they let you enjoy the fresh air without any worries. Creative homeowners use lights, fans and audio systems to transform their porch into a comfortable extension of their home.
Multilevel Decks
When you work with a professional custom deck builder, you can let your imagination wander. Homeowners who are not satisfied with a standard layout can build a multi-layered deck. When you build more than one layer, you maximize outdoor space; your deck can act as both a storage unit and as a regular deck all at once.
Composite Decking
Composite decking is known for its quality, durability and reliability. The materials cost a little more than regular wood, but they last for years with minimal maintenance. The decking is made up of a composite consisting of recycled wood and fibers, so builders are able to give you a choice of colors and styles for an affordable price. When you buy upgraded decking, you never have to worry about warping, splintering or annual maintenance.
Customizable Areas
When you choose to work with a professional builder, you can easily customize the look of your deck. Creative homeowners can building extras like benches, trellises, and garden boxes right into their deck. If you're thinking about adding a deck to your home, it makes sense to contact a professional that can customize it for your home and family. When you work with a professional, your deck matches the needs and desires of your family perfectly. A quality deck becomes a cherished part of your home, and it becomes a perfect extension for entertaining children, friends and family.