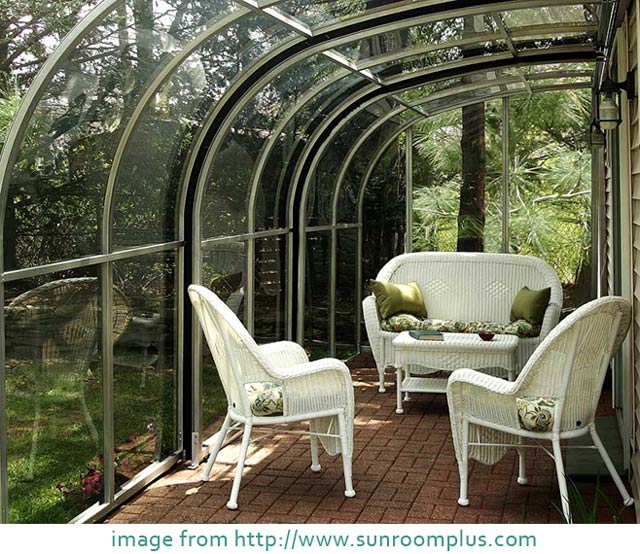 Does your home have a sunroom? If not, do you plan on adding one? I want to have a sunroom for our house and we are currently shopping around for this product.
What are sunrooms?
Sunrooms or sunspaces are basically rooms or enclosed porches that are designed to be exposed to sunlight either through the numerous windows or through plastic or transparent walls. They are usually constructed so that people can enjoy looking at the scenic view outside the house and still be protected from the sun, rain and wind (although other sunrooms are created for warmth and light). In other words, sunrooms allow you to embrace outdoor beauty with indoor comfort.
Homeowners whose houses originally don't have sunrooms can get sunroom additions so that they can enjoy and experience having a sunroom. The structure can be built on code-compliant slabs or decks and can be made out of wood, aluminum framing with tempered glass, glass, PVC, brick or breeze block.
When shopping for sunrooms, here are the things that you must consider to have a worry-free, easy to maintain and trouble-free sunroom additions:
find a structure that will blend to and enhance the existing structure of your home and will not look like a cookie-cutter room. it should look like an extension of the house.
the sunroom addition's windows and doors should be easy to operate
the sunroom will be an extension of your family space so be sure that it is secure; for example, have interlocking sashes on windows and doors for added security
you should consider all the four seasons when picking the sunroom for your house
as much as possible, use stainless steel wheels on the windows for them to remain rust-free
find an installer that offers warranty on parts and labor
installers should take care of the building permits for this home addition
Once you already have a sunroom, you can now have that extra spot for family gatherings especially if your home gets a little crowded on holidays and other special events. It can also be your quiet little space where you can rest and just revel at the beauty of the outdoors.