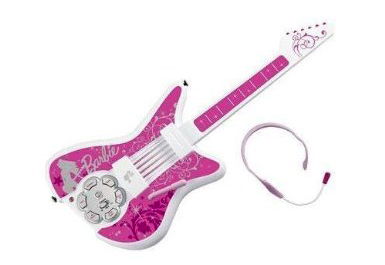 It's been a while (and with that I meant years) since we last went to a garage sale. Last month, our neighbor had a garage sale and Georyl found this little guitar which they were selling for just $2:
Although the Barbie guitar that we bought didn't come with the headset microphone anymore, Page and Amanda (our neighbors) gave Georyl a Dora DVD too.
I already know that it's a steal but I just found out that a new one costs $99.97 at Amazon. Whew, it's not as expensive as a moog sub phatty but still, we're happy to get it for a small fraction of the prize.
How about you? What are your recent garage sale finds? Care to share in the comments section?