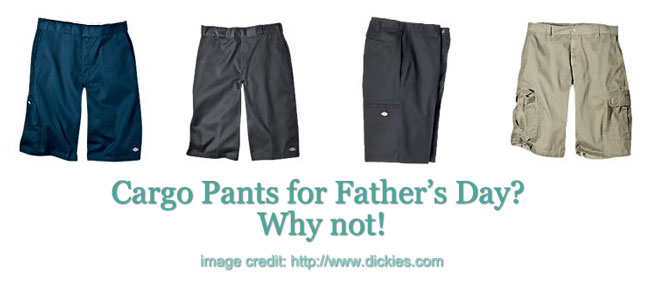 Mother's Day already passed and now, Father's Day is just around the corner. Do you already have an idea of what to give your dad or a special man in your life (like your hubby or partner)?
My hubby recently hinted that he would like to have some new pants. I think I already know the kind of pants that I will buy for him: cargo pants!
Dickies clothing brand makes fantastic cargo shorts that are built to last for years through much rough wear and action. These men's shorts will work well with my hubby because of his active lifestyle. Also for casual wear in warm weather, cargo shorts are practical and perfect for a wide variety of activities. He can use it in his fishing trips, camping excursions and extreme sports like mountain biking and rappelling.
The Pockets
Some of the best-known and loved features of cargo shorts by Dickies are the pockets. Pockets are essential every day. Functional and convenient, the pockets can hold a surprising amount of objects from keys and change to sunglasses and tools.
The Ripstops
Some of Dickies' cargo shorts feature ripstops. These useful cords are meant to cinch the bottoms of the pants together so that they are not flapping open. These ripstops are very helpful when climbing or cycling as well as on a number of other activities where flapping bottoms are not wanted.
Comfortable Work and Active Wear
Cargo pants as made by Dickies are some of the most comfortable and practical shorts on the market. These shorts provide effortless wear with pockets for convenient storage of items.
Have you already found the gift that is perfect for Father's Day? Care to share in the comments section?