How are you guys doing lately? Hope everything is going well.
I am very excited right now because after weeks of house-hunting and submitting offers for houses, a seller finally accepted one of our dozens of offers. Each day is now getting us one step closer to our new home.
Last Friday, we went to the new house for the usual house inspection. The inspector found a few minor issues that we already informed the seller about through our realtor. A while ago, we were informed of the results of the appraisal and it was appraised at selling price without need for repairs.
Anyway, I really love this house that we are buying. It has a modern looking kitchen with stainless steel appliances, soft close built-in cabinets and great looking back-splashes. The side of the wall where they have fireplace has a unique wall covering that makes the house look elegant and classy. The backyard looks great as well, as can be seen from the picture below: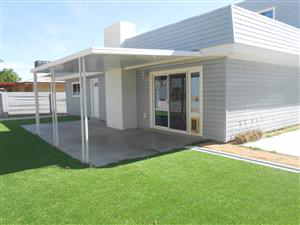 Today we were there to check out the minor repairs that the seller did on the house. Georyl stayed at the backyard, playing and making herself feel at home.
I am so excited about this house – I can already imagine my children growing up here.