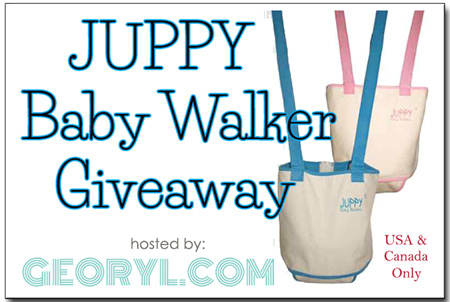 Have you heard of the Juppy Baby Walker?
Recently, I got a chance to receive a free personalized Juppy Baby Walker "Momentum" in exchange for an honest review on this blog. This product, valued at $37, is a revolutionary product that is a must-have for parents who have kids who are still learning how to walk.
I am so glad that Geshery will have the chance to use the Juppy Baby Walker in the next few months (once she's ready to learn how to walk already). This product is probably the safest method of teaching babies how to walk. Instead of letting children roam aimlessly with the traditional walker, you can guide and assist your child using the Juppy Baby Walker – eliminating dangerous falls!
The product that I received from Juppy is personalized with Geshery's name and comes with a free carrying bag. The Juppy Baby Walker is made of cotton, can be hand-washed or machine-washed. It also comes with adjustable straps to accommodate the parent's height (whether you are 4'11" or 6'11") so you can comfortably teach your baby how to walk without bending a lot and straining your back.
Although Geshery's too young to walk, she had a great time trying out the Juppy baby walker. Can you see her big smile here?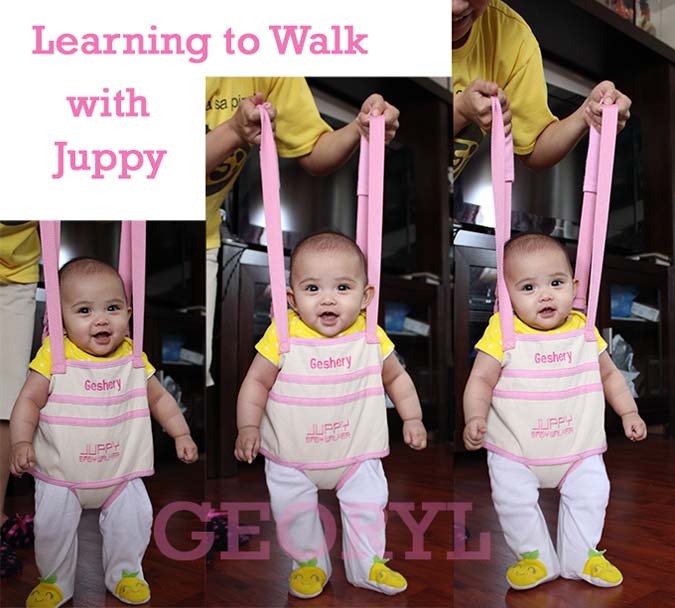 By the way, I chose the color pink for my little princess and I think it looks cute on her. Do you agree?
You can learn more about this great product by visiting The Juppy website or reading The Juppy Blog. You can also connect with them by liking their Facebook page, becoming a fan on Twitter or following Juppy on Pinterest. You can also watch this short video from YouTube:
Juppy Baby Walker Giveaway
Do you like to win a personalized Juppy Baby Walker (valued at $37)? I am currently hosting a giveaway for this product (along with some wonderful bloggers who volunteered to co-host with me). Do the easy tasks mentioned in the Rafflecopter below and you might just become the lucky winner when this giveaway ends on March 13, 2013.
Don't forget to read the following terms and disclosures regarding this giveaway:
GEORYL and the co-hosts of this giveaway are not responsible for prize fulfillment. The sponsor, Juppy, is the one who will send the prize to the winner.
Giveaway starts on March 6 and ends on March 13, 2013 at 12:00 AM.
Giveaway is open to residents of USA and Canada, ages 18+. Void where prohibited.
This giveaway is not associated with Facebook or Twitter in anyway.
Winner will be notified via email and will have 48 hours to respond before prize becomes null and void.
Good luck and thanks for joining!