How was your weekend?
I had a great time last weekend! It was the first time since last year that I was able to have a break from taking care of the kids (but will talk about that later in this post).
We were actually planning to have a picnic in the park last Saturday but it was so windy that we just spent our day sightseeing and driving around. Despite the windy day though, we still had our meal outside a popular fast-food restaurant somewhere in North Las Vegas during lunchtime.
Here is a picture of Georyl with my mom who is currently spending her vacation with us.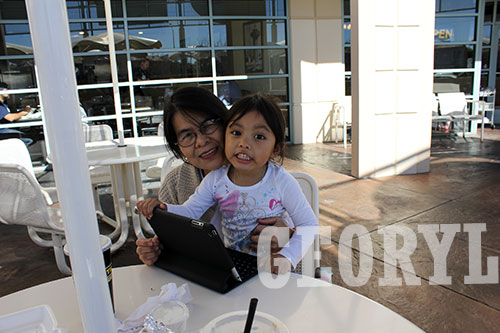 On Sunday night, my husband and I watched the Cirque du Soleil show at the O Theater at Bellagio along with my sister-in-law and her children. It's been a while since hubby and I went out on a date without the kids so we had a blast even though we were only away from home for less than three hours. Many thanks to my parents who looked after Georyl and Geshery at home while we were out and to my mother-in-law for giving us free tickets. (I'll probably blog more about that later.)
How about you? Care to share how your weekend was?
Ciao!