Have you seen my recent post "Badger Shaving Brush for Hubby"? Well, if you have not read it yet, I mentioned there that I gave hubby a badger shaving brush (actually, the whole shaving kit) during our latest anniversary celebration. Why? Because he hates shaving and I was hoping that with a new shaving brush, he'd be less antagonistic towards it.
Today, I was glad to see him actually use the brush during his usual morning routine. Instead of the shaving cream, he is now using a shaving soap, shaving mug and the shaving brush for his shaving ritual (ooops! "shaving" overload there). I liked watching him form a lather with the brush and applying the foam on his face. He said that he's more comfortable using the soap and brush because the resulting lather provides a closer, smoother shave (and because those are my gifts to him) – but it doesn't change the fact that he still hates shaving!
I just don't know why hubby hates shaving. I remember the time when he was on leave for almost two weeks in 2011. Oh boy! He relished each day because he didn't need to shave his face. We don't have a picture of how he looked like when his beard was at its longest but here's a photo taken during the first few days of his leave. This picture was shot during his niece's birthday party where everyone was kind of shocked to see his bearded face.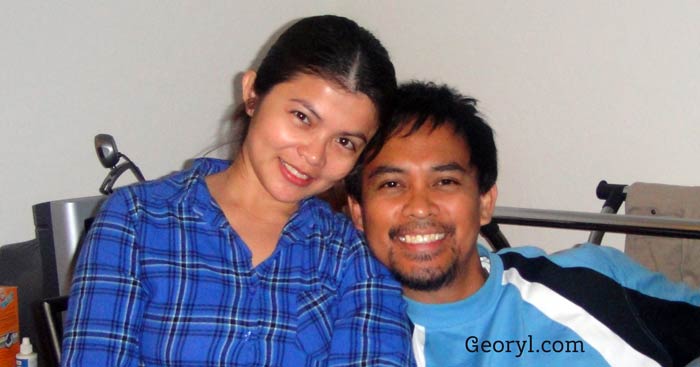 Just imagine how he looked a week after that: older, more mature and almost like a hermit. LOL!
Anyway, this is off-topic but did you notice the new look of GEORYL, the blog? I designed it myself using one the themes from Studiopress. I had noticed that lots of mommy blogs are using the pink color scheme and so, for a change, I used green for this design as it happens to be one of my favorite colors. I am planning to launch the redesign of my techie blog as well. I hope you do watch out for it.
Disclosure: This is a sponsored post. However, all thoughts and opinions are 100% mine.