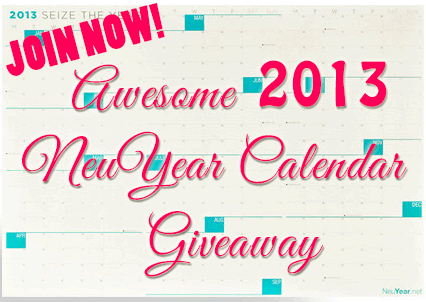 Ready for 2013?
Recently, GEORYL received a 2013 calendar from NeuYear.net. At 27″ x 39″, this calendar is super useful for planning goals since it shows you the whole year at a glance. You can choose between two orientations: the horizontal orientation at one side makes it fit perfectly above your desk while the vertical orientation (when you flip it) perfectly fits on your door. Sticking this to the wall in whatever orientation you'll prefer using poster strips (included with the calendar that I received) works too – and, according to the manufacturer, this don't leave marks on the walls!
You can purchase this calendar from NeuYear.net at 30% off using the discount code TechieShe (valid until January 15, 2013) or you can get the chance to have one for free by joining the Awesome 2013 NeuYear Calendar Giveaway thru the Rafflecopter below:
Please note! This giveaway is open to those with US shipping addresses only. The winner will be notified via email and should reply within 72 hours or another winner will be selected. The sponsor (NeuYear.net) will be the one to ship you your prize.
Good luck!