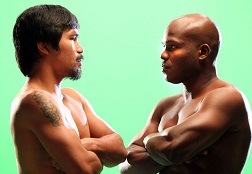 We had a chance to get together with our relatives during Manny Pacquiao's fight against Timothy Bradley earlier tonight. My husband's cousin ordered some pay-per-view for the fight and our family brought some chicken wings and ribs to barbeque as we bonded while waiting for the fight to commence. My sister-in-law's family was there too, along with another family friend.
Kirby Asunto sang the Lupang Hinirang (Philippine's national anthem) while American Idol's runner up Jessica Sanchez rendered her version of the Star Spangled Banner. I've never heard of Kirby and initially thought she's a he until I saw her in her red dress.
The referee for the fight was Robert Byrd. Prior to the fight, Bradley (wearing black pants) has 28 wins with no loss while Pacquiao (in blue trunks) has 54 wins and 3 losses.
All rounds, except round 10, went to Pacquiao in Lederman's scorecard (119-109). In the fourth and fifth round, we thought Pacman's gonna knock down Bradley already but the fight continued.
In round 6, I saw Pacquiao winking and smiling at someone from the crowd, not sure if it was his family because his wife Jinkee was there along with their two sons.
I noticed that most of the action in the game happened in the last few seconds of the rounds. The only time that Pacman got "lazy" in the last minute of the round was in round 10, and that's the only round that Bradley won in Lederman's scorecard too!
The Controversial Decision
The game went till round 12 and the judges gave a controversial split decision: Ford 115-113, Ross 115-113 and Jerry Roth 113-115 for Bradley. Now, it was something that we didn't expect since during the fight, it was evident that Bradley was having a hard time keeping up with Manny. The statistics also showed that Manny dominated the fight.
Did Someone Got Paid?
Every statistics was in favor of Pacman and even the announcers thought Pacquiao won. I think Pacman won too. I'm not sure what happened but Bradley all along mentioned a "November 10" date for a rematch (even before the match). Did someone got paid?
What do you think?