Guess what we had during my recent birthday celebration? Some sushi overload!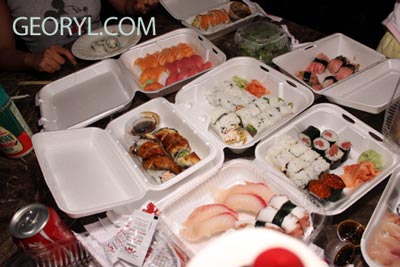 My relatives and friends are not here with me and I spent my birthday with my husband's sister and her family. Just a simple get-together with lots of sushi. My husband initially thought of an eat-all-you-can night out in a Japanese restaurant but it seems that our schedules won't jibe so we just ordered some sushi and took them to my sister in law's house.
Sushi is a Japanese food consisting of cooked vinegared rice combined with other ingredients (and the most common of which are seafood). In North America and Europe, variations of sushi were created (such as california and other popular rolls) but in Japan, the most common types of sushi are narezushi, nigirizushi, oshizushi, chirashizushi, inarizushi and makizushi.
Sushi is one of the few foods that women are advised not to eat when they are pregnant for health reasons. This is because some large fish, such as tuna (especially bluefin), can harbor high levels of mercury. In addition, if not properly handled, it can be a cause of food poisoning and parasite infection risks. I am almost halfway through my pregnancy right now and I admit that I am quite guilty when it comes to sushi eating because I love this Japanese food a lot!
Do you also love sushi? When was the last time you ate it? 🙂