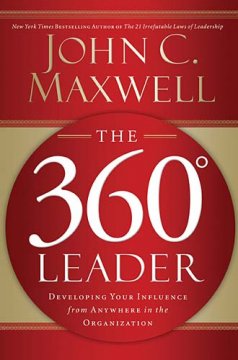 I got the chance to receive the book The 360 Degree Leader: Developing Your Influence from Anywhere in the Organization for free from the publisher in exchange for a review but I was not required to write a positive one.
The 360 Leader was written by New York Times best-selling author John C. Maxwell. In the book, he debunked myths that you need to be the boss to be able to exert leadership and influence on others. This book encourages us to expand our influence and become a valuable team member from any position in the organization. We could learn to lead down among our subordinates, lead up to our bosses and lead across our peers.
If you would like to learn on how to exert your influence on others while learning about yourself in the process, you should get this book. John C. Maxwell is a great inspirational writer and I must say that his work had encouraged me to get out of my shell and to see how I can be valuable member of the organization.
Disclosure of Material Connection: I received this book free from the publisher through the BookSneeze®.com book review bloggers program. I was not required to write a positive review. The opinions I have expressed are my own. I am disclosing this in accordance with the Federal Trade Commission's 16 CFR, Part 255 : "Guides Concerning the Use of Endorsements and Testimonials in Advertising."