Did you receive lots of goodies last Christmas? Make-up kits, clothes and new gadgets – for sure, they all make you look shiny and new for the new year but if your eyeglasses still look a little "last year," I guess it's time for a new pair of trendy eyeglasses.
With Zenni Optical, it would be so easy to make your look trendy without robbing the bank. Zenni Optical is an online eyeglasses store that prides itself in offering high quality prescription eyeglasses at affordable prices.
Just take a look at this eyeglasses that they are selling for only $6.95: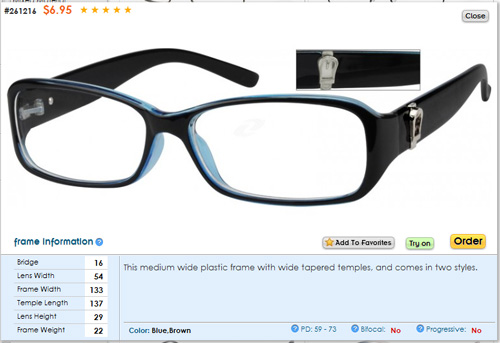 The eyeglasses above looked similar to my Coach Annabel eyeglasses but it cost way less than what it cost me to have mine. For sure, I would love to check their online store one of these days to find something that would update my look.
Ooops, I'm not dropping hints to my husband who'll probably read this post but I just realized that the gift of a new vision (that is, a new pair of eyeglasses) would make a wonderful valentine's day gift. Not only are they functional, they can also be chic, fashionable and trendy.
And with Zenni Optical, they are affordable too!