As a new homeowner, I realized that I should learn more about home decorating now more than ever. I thought interior decoration ends after you bought or got nice furniture and appliances but I had learned that there is more to home decorating than just those things.
Now, I'm considering the impact of lights in the interior decoration. A friend suggested to apply recessed lighting because it can be a key element in both the function and style of the space.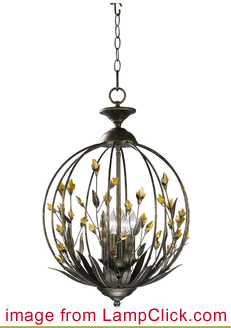 But I can't resist the drama of a nice chandelier so I suggested to hubby that we install a chandelier in the dining room… or the island bar… or just anywhere in the house – as long as there's a chandelier. LOL!
Alright, so hubby relented and I was given a go signal to look for the chandelier that I wanted. I checked out some lampclick chandeliers online and I'm thinking of getting an art deco style or the contemporary ones.
There's this one interesting chandelier though which looked so unique (see image on the right). I'm not sure where I can place that so I have to share that picture with you to see if you have some suggestions.
I think it's interesting, do you?