This post brought to you by Zenni Optical. All opinions are 100% mine.
Recently, I visited the website of Zenni to look for some eyeglasses. Guess what I found out?
You'll be surprised to know that at their website, the price range of their products are from $6 to $46. Imagine that?!
Well, a pair of eyeglasses that is a bit similar to what I bought few months back just costs $29.95 at their site. Take a look at this: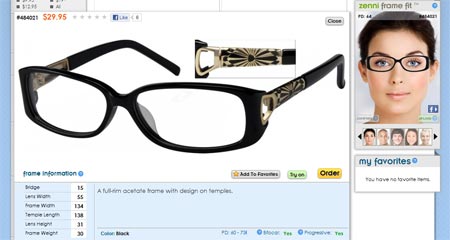 My Coach Annabel 530 eyeglasses costs a couple of times more than this one and if I had found out about these cheap eyeglasses at Zenni, I surely would have saved a lot of moolah (which I can add to my budget for buying a dslr camera).
Zenni claims that they manufacture their own products using the latest modern materials and brings those product direct from their factories to the market. Without the middlemen and retail overhead, and practically without an advertising budget, they can sell their products at the current low prices.
The next time I'll need some eyeglasses, I'll check out this site first. Aside from prices, you can view their eyeglasses according to prescription type, pupillary distance, gender, frame type, style, shape and color. As you can in the image above, you can even "try it on" to see how it looks like.