Nope, you're not lost, GEORYL just had a blog makeover again!
Last November 27, I blogged about making a headway soon – and that soon is now (or earlier today).
GEORYL's site is now using Headway Themes 2.0.13. I've been using Thesis theme in the past and although I love the powerful framework of Thesis, I'd like to welcome some change for the coming year, 2012.
To refresh, here's the old version of GEORYL: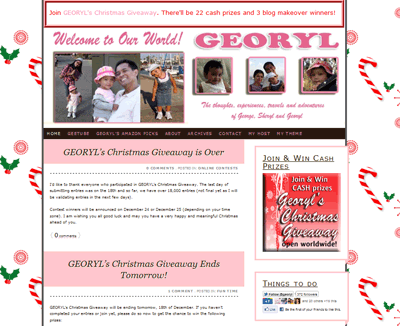 As you've noticed, I went for the minimalist look (compared to the previous look). I'll be doing a few tweaks on the navigation bar and the footer but that will come after I am through reclassifying the categories and transferring other posts to my niche blogs Techie She, Work at Home Wife and Mother and Travel Pixy.
How about you? Do you plan to incorporate some changes to your blog prior to the start of the year 2012 (or next year perhaps)? Any new year's resolution especially when it comes to blogging? Blogging goals perhaps? I would love to hear from you in the comments section.
Have a happy and blessed holidays everyone!