Today I finally found the time to tweak my mother's blog, Dens Online. This design is from a freebie template from Grace's blog, Dress Up Your Blogs.
Here's the not-so finished product (coz I still have to add some widgets):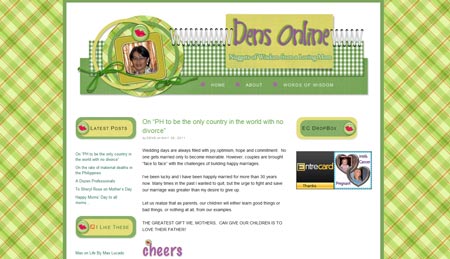 I edited the header to incorporate my mother's picture in the design and changed the color of the signature from brown to violet.
The template was created for the Blogger platform. The text and instructions on how to install this blogwear are not included in the pack but I'm glad that with The Thesis Theme for WordPress, I was able to upload and install the new design in such a record time.
If you have time, please drop my mother a visit in her new home in the web, Dens Online. She would be happy to hear from you. Please also visit Techie She to join the week 2 of Techie She's Lucky Blogger Weekly Giveaways. This week's prize is $10 paypal credits sponsored by the beautiful Lainy of Lainy's Musings.