Summer 2011 will officially start on June 21st here in the US – and it's time to take out my summer clothes from the storage and keep my winter clothes (I'm keeping only two seasons of clothes in my closet to make it more spacious).
The short pants with garterized waistband fit me comfortably but alas! I need to hold my breath (and hold it some more) just to fit into my other pants. My ideal weight for my height is 111 lbs. (recommended weight range is between 98 to 123 lbs.) and the last time I checked, I maintained my weight at 100 lbs. Is it that hot in Las Vegas that my clothes shrunk? It fits me no more!
I realized that the only strenuous exercise I'd ever done after giving birth is to type at 62wpm on the keyboard. Gone are the long walks that used to be part of my routine when I was still working. I shouldn't be aghast to see the trim and fit look change to flabby and cuddly given my very sedentary routine but I do feel that way.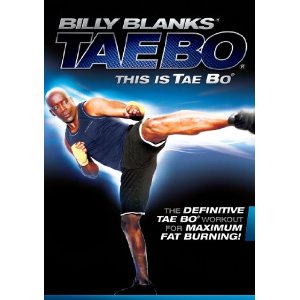 I need my old shape back!
So now, I'm embarking on a new mid-year resolution. I bought Billy Blanks' Tae Bo (This is Tae Bo) DVD and I aim to do it daily or at least five times a week.
My hubby probably will read this post so as an additional motivation, I declare that I won't be touching the keyboard until I'm finished with my exercise routine. There! I'm guaranteed a raised eyebrow (if not two) if I face the computer without exercising with Billy Blanks and his crew. My hubby is a man of few words but when he raises his eyebrow, you'll know something's amiss. (Lab yu heart! Hehe!)
How about you? Do you feel that you also need to get into an exercise routine? Why not join me in my mid-year resolution then at the end of the month, let's see how many inches we had trimmed from our waist, arms and thighs? This endeavor will be more fun if you have someone to do it with, ayt?