During our visit to the Disney California Adventure Park at the Disneyland Resort, Baby Gee got a chance to meet some Disney characters that she only got the chance to see in her books.
One of the Disney characters that we had the chance to pose with is Goofy. He was being his wacky self but instead of making Baby Gee laugh, he managed to scare her instead.
See how she clings to me in this picture?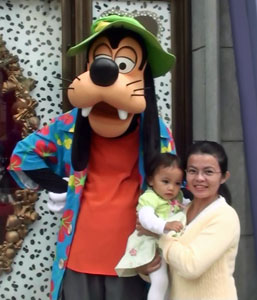 Some Trivia on Goofy From Wikipedia
Goofy is an anthropomorphic dog and is one of Mickey Mouse's best friends. Along with being predictably clumsy, Goofy is often shown as having little to no intelligence. But this interpretation isn't always definitive; occasionally, Goofy is shown as intuitive and clever, albeit in his own unique, eccentric way. His birthday is May 25, 1932.