Move over, Caroline Wozniacki, Kim Clijsters and Vera Zvonareva! Give way to the next tennis superstar: Baby Gee.
Hubby plays tennis regularly and it's no wonder that as soon as Baby Gee's big enough to carry a tennis racket, she's very interested with playing with this father's racket. I thought looking at my little toddler waving the racket which was bigger than her was somehow hilarious but her dad's ecstatic to know that his daughter is as sports-minded as he is.
The result: hubby bought Baby Gee her own tennis racket when she's one and a half years old.
Here's Baby Gee as she joins her dad in his tennis match warm-up.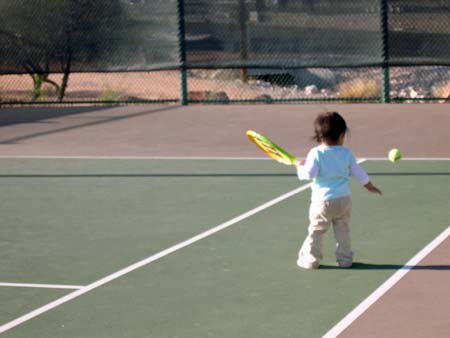 Whenever we go out for an errand or something, she always brings a tennis ball. She also wants to go with her dad to his tennis games but she's banned for a while from watching because she keeps on running after the balls even during the match.
I'm sure she's gonna be a great tennis player someday.