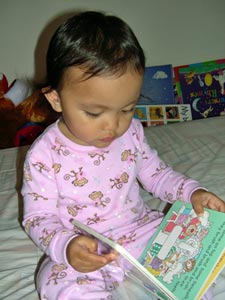 Baby Gee was less than two months old when I started exposing her to books. At that time, she probably doesn't understand what's that thing that her mom kept showing her. I doubt if she even can see colored objects yet.
But I was glad that I exposed my baby to books even at such a young age. Today, she can smartly identify every object in her books. Alright, she still can't pronounce some words correctly but you can understand her – like when she's saying "arbow" instead of "elbow" and "appie juice" instead of "apple juice."
One of her favorite books is The Going-To-Bed Book
by Sandra Boynton. The picture taken above and the one below were shot when Baby Gee was getting ready for bed. Another book that she likes to include in her night time ritual is Counting Kisses
by Karen Katz.
Here's another pose of Baby Gee before mommy joins her for reading time.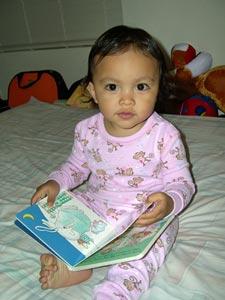 .
Do you also read to your baby? Do they like books as well?