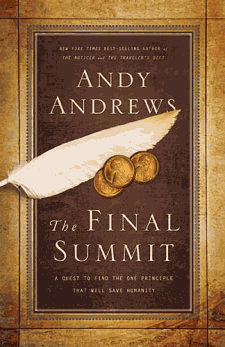 When I first saw that The Final Summit was a thick hard-bound book, I got a bit dismayed and began wondering if I could get through reading a 224 book without getting bored. My fears where unfounded though because as I flipped through the pages, I got so hooked reading it and liked the message that it wishes to convey.
In the book The Final Summit: A Quest to Find the One Principle That Will Save Humanity, Andy Andrews shares the one thing that can save humanity. Although some of the ideas and character are from the Bible, it's surprisingly not much of a religious book but a history, inspirational and motivational book rolled into one. It's a bit weird to read about historical and heavenly characters converse with each other but even though most of the conversations are fictitious, Andrews presented facts about them and even quoted some of these personalities' famous quotes in the book.
If reading motivational books make you feel like you're listening to a sermon, you'll enjoy this new twist that Andy Andrews gave to motivational writing. Read the book and see if you can guess the two worded answer that will not only help humanity right now but had proved to be helpful in the past.
Disclosure of Material Connection: I received this book free from the publisher through the BookSneeze®.com book review bloggers program. I was not required to write a positive review. The opinions I have expressed are my own. I am disclosing this in accordance with the Federal Trade Commission's 16 CFR, Part 255 : "Guides Concerning the Use of Endorsements and Testimonials in Advertising."