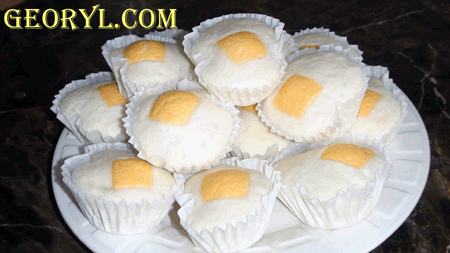 The other day, I was craving for puto cheese. Since we had the ingredients at home, I decided to bake some and the picture above are my products:
Here's the puto cheese recipe that I used. It's actually a variation of the home-made recipe featured in another blog.
Home-Made Puto Cheese Recipe
Ingredients:
3 cups cake flour
1 cup white sugar (divide sugar, 1/2 cup for dry ingredients, 1/2 cup for egg whites)
1/2 cup water
1 1/4 cups evaporated milk
8 egg whites
1 tsp. vanilla extract
1/2 tsp. salt
1 1/2 tsps. baking powder
1/4 tsp. Cream of tartar
cheese (sliced, for toppings)
Procedure:
Add cream of tartar to egg whites and beat thoroughly.
Gradually add 1/2 cup of sugar into the mixture and continue beating until it becomes thoroughly blended. Set aside.
Mix and blend well all dry ingredients.
Combine all liquid ingredients then add them to the dry ingredients. Mix thoroughly.
Pour in (cut and fold) beaten egg whites.
Pour the mixture into muffin cups with puto cheese paper and top with cheese.
Steam for 15 to 20 minutes.
Cravings satisfied. Next, I'll try to learn how to make sushi. If you know how to make it, care to share your recipe?
Happy weekend!