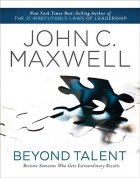 What does it take to become someone who gets extraordinary results? We see a lot of talented individuals in the world right now and it may be easy to answer "talent" – but is it enough?
In his book, Beyond Talent, John Maxwell says that it takes more than talent to become successful. Talent is nothing without something that will lift, energize, activate, direct, position, sharpen, sustain, test, expand, protect, influence, strengthen and multiply it. You can be extremely talented but without these essential things, you will not be able to reach your full potential.
I had read John Maxwell's books on leadership and I'd say that I liked all of his books including this one. If you need a little push, a little motivation, let this book inspire you as you discover the choices that will take you beyond your talent.
If you'd like to see a preview of the book (the first 35 pages), feel free to click the image of the book cover above.
Disclosure of Material Connection: I received this book free from the publisher through the BookSneeze®.com book review bloggers program. I was not required to write a positive review. The opinions I have expressed are my own. I am disclosing this in accordance with the Federal Trade Commission's 16 CFR, Part 255 : "Guides Concerning the Use of Endorsements and Testimonials in Advertising."