Have you read my recent post about Nuffnang's invitation to the special screening of SALT? Well, there's a good news! I won three tickets to that event.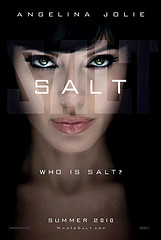 Here's Nuffnang's email to me:
Congratulations,  Nuffnanger!

You've got yourself three (3) tickets to the SALT Special Screening! You may either get the tickets tomorrow (July 27, Tuesday, from 10am-6pm) here at the Nuffnang Office or you can go straight at Greenbelt 3,Cinema 1 on Wednesday. Just bring a valid identification card for verification purposes. Thanks!

See you all!

Cheers,
The Nuffnang Team
Yehey, I won. I've been waiting for that Angelina Jolie movie ever since I first saw it's trailer online few months ago. I'm not really a movie buff but the movie seems interesting and action-packed.
But wait, there's a bad news here.
The email went into my spam mails and I read it just now. And the event was last Wednesday. Ouch! What a waste! I guess I have to start checking my spam mails regularly.
How often do you check your spam mails? Or do you even do that?